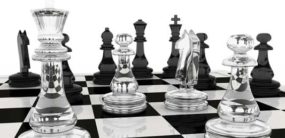 TV shows and movies capture the excitement, twists, turns, and suspense of court room proceedings. And it can be exciting! There are times when a case benefits from and is done justice by a trial by jury. Some stories deserve to be heard, and trial verdicts can blaze a trail for future cases to follow.
It is a legal reality that a small percentage of cases make it before a jury. Plaintiffs and defendants often benefit from settling or arbitrating out of court. Behind the scenes, pursuing a lawsuit is not glamorous, even when a case is strong and deserving of a favorable verdict.
I have clients that come to me justifiably angry and hurt, and they want me to take swift and aggressive action. It is my ethical responsibility as an attorney to present the pros and cons of litigation, to assess the strengths and weaknesses of their case, and to paint a realistic picture as to what litigation might look like for them.
Here are 4 "cons" (see next article for "pros") that I ask my clients to consider before they give me the green light to file a lawsuit on their behalf:
1. Expense: Cost is usually the first uncomfortable reality a client faces. Litigation is a perfect example of the saying, "Put your money where your mouth is." This is true for both client and attorney. Standard expenses include court filing fees, the cost of collecting witness statements, of taking depositions, of expert witness testimony, and hourly attorneys' fees (case and attorney dependent.) A single deposition may cost $5,000, and there are very often multiple depositions taken. An attorney or firm may cover such expenses, and recover these expenses from a potential future verdict. Whether the client or the attorney pay the expenses leading to trial, both make an investment that may not pay off: If the case loses at trial or is thrown out beforehand, no money is recovered, and 100% of the total investment is lost. In certain circumstances, a plaintiff may even be ordered to pay the court costs and legal fees of the opposing side.
2. Time: Litigation is timely and tedious. Lawyers may spend hundreds of office hours drafting discovery, drafting responses to objections, and fighting motions that may throw the case out before it reaches trial. A case may take two or more years to move through an underfunded and backlogged judicial system. The client spends dozens of hours conferring with her attorneys and attending depositions. This time does not include the hours the client spends thinking about her case and worrying about the legal hurdles that must be jumped during the litigation timeline. Demands on time and energy affect family, social, and employment commitments.
Time is money, and the longer litigation continues, the more time and money it demands.
3. Personal: Litigation is not personal, and yet it feels so personal. Personal and private details are drudged up and distorted by the opposing side. Sometimes this includes medical and psychiatric records.
Clients may not be aware of the emotional intensity and stress of being cross examined under deposition or on the stand. It is not for everyone. Many of my clients leave their jobs under stressful circumstances, and the discomfort of reliving the details may not be worth it. Some clients are victims of horrible injustices, and they want to publicly tell their stories (all filings and court documents in litigation are public information, not just trial disclosures), and they are prepared to weather the storm. Other clients decide they are satisfied resolving their case through settlement or arbitration. These are closed-door, confidential negotiations or hearings that follow an expedited timeline.
4. Professional: The time and energy demands of litigation may affect new employment held during the litigation process. It is very likely that a litigant will need to spend time away from work, and there is the real risk that the current employer will become aware of the litigation. It is important for a client to proceed with life as normally as possible, and this includes finding new employment. Although, there are instances when a new job can mitigate and decrease monetary damages awarded at trial.
Taking a case before a jury of your peers, with the opportunity to freely present the facts you believe to be true (and re-present them on Appeal when appropriate) is a precious, legal right. Litigation continues to alter the course of history (most recently and notably the federal legalization of same sex marriage), gives protections to those who have few, and helps to uphold the freedoms that separate the United States from many other countries. But like many great endeavors, litigation is not easy. To proceed requires a strong attorney, a strong client and a strong case.